Staged to boost awareness of veterans' support groups, raise funds for veterans charities and salute the troops, HBO's Concert for Valor drew hundreds of thousands of fans to the National Mall in Washington, D.C., on Veterans Day. HBO, Starbucks, and Chase were the main sponsors, and thanks to a fellow music loving friend, who works at Starbucks HQ, we were lucky to have two "Honored Guest" tickets – landing us in front of the massive crowd.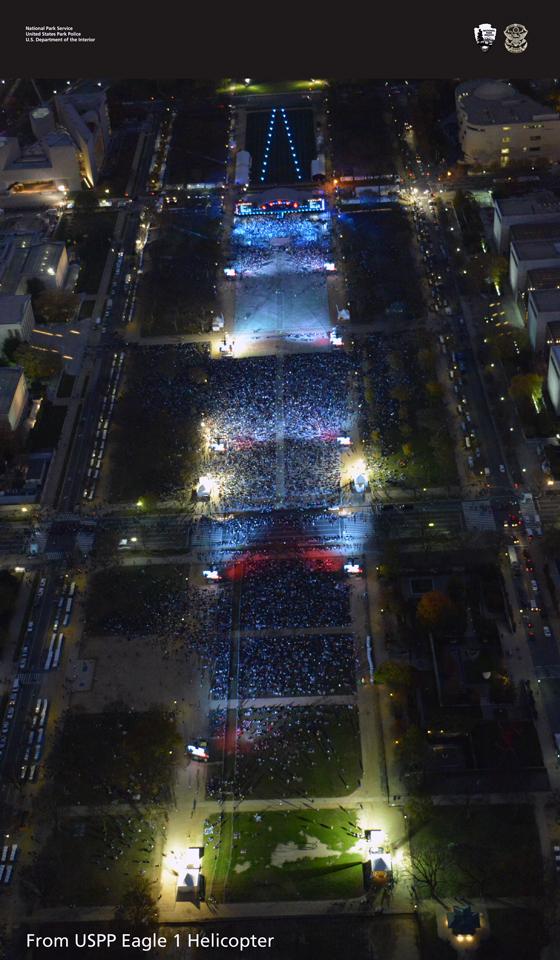 We arrived at about 2:30, set up camp on our blanket, and started playing cards to pass the time when rehearsals began. A woman walked out, the crowd buzzed and I said, "Should we know who that is?" when I realized the woman was Meryl Streep! Holy cow! We knew we were in for a great night.
The Black Keys ran trough their entire set!
After a few celebs came out to read their lines and get used to the set up, we figured out how things wold work: A band would perform, a celeb would introduce a video about a military member, the member would be recognized, and the celeb would introduce the next act. Things were slow during the afternoon, but zipped right along at night since while everyone was watching each video, the lazy susan style stage was spinning around to reveal the next act's set. The technical aspects of the evening were fascinating. And speaking of technical and fascinating: hows about the scaffolding on the Capitol dome?
Jennifer Hudson sang the National Anthem and later joined Jessie J for Titanium.
Thanks to the sneak peek in the afternoon, we knew when we saw Meryl that it was time for Dave Grohl.
My mind was officially blown when The Boss himself joined Dave and The Zac Brown Band for Fortunate Son.
Big D and I are big John Oliver fans. True Fact: His wife is an Iraq War veteran who was an Army Medic with 1st Cav. And as the saying goes, "If you ain't Cav, you ain't sh*t !" (which was fun to yell along with him and the crowd!)
Carrie Underwood does not phone it in.
Jack Black had the crowd chant to introduce Metallica. Metallica. Metallica. Metallica! I was surprised they were such the crowd favorite – they were impossible to photograph since arms were flying everywhere.
From the NY Daily News regarding Springsteen: "…Nuance came from Springsteen's solo set. Accompanied by just an acoustic guitar, he didn't flinch from alluding to the more controversial or gritty elements of war. He offered a stripped and slow version of "Promised Land," the better to savor lyrics which address America's possibilities, not necessarily its realities. He went further with a desolate and wounded take on "Born In The U.S.A.," which critiques the military presence in Viet Nam in the '60s. Likewise, his somber take on "Dancing In The Dark" emphasized the sadness behind its passion."
Bryan Cranston used a Heisenberg threat to encourage folks to support the troops saying "There's still a lot of room in Belize for people…" and mentioned both of his parents who served before he introduced Rihanna.
Eminem joined RiRi for Monster and then opened his solo set by shouting "Happy Motherf—ing Veterans Day!" Just as our forefathers intended.
There are tons more photos over on Flickr including folks I've omitted here like Bob Woodruff and Jamie Foxx. Thanks again to my pal AK who helped us with tickets! Finally, here's a little video recap I put together a few days after the show: